The Ultimate Escape Room Experience in Calgary
Per the current Alberta state of emergency, starting Sept 20th we will require proof of vaccination from all players (12 and over) or documentation of medical exemption or proof of a negative Covid-19 test (Not from AHS)
In addition, we continue to sanitize rooms and stagger groups to promote social distancing. All our escape rooms are now private so there is no worrying about playing with strangers. We look forward to bringing you the best escape room experience in the city for players of all ages!
Where Adventure Comes to Life
Are you ready for the best escape room in Calgary? Grab your family, friends or co-workers and brace yourself for an adventure like never before! In one hour, you will follow the story, search for clues and solve the mystery. Arcadia Adventures offers unique, thrilling, and intense gameplay that's fun for any audience. Will you retrieve the golden idol? Save humanity from the walking dead? Catch a mysterious thief? Or uncover the secrets of a bewitched fairytale dungeon. It's your choice at Arcadia Adventures Escape Rooms!

Our Escape Rooms in Calgary
$27.95 per adult
$21.95
per child ($12 & under)
A Thrilling Heist for the Ages
Adventure back to the Victorian age as the ancient and mysterious Illamanati. Your task is to acquire the Golden Alpaca from the Museum of Curiosities, a band of cunning adventurers who have recently stolen the sacred artifact. Steal the golden idol in time or find out what happens when your efforts prove unsuccessful.
$27.95 per adult
$21.95
per child ($12 & under)
A Heart-Pounding Race Against Time
Journey to the future of an apocalyptic world where zombies threaten your very survival. Your team of scientists is on the cusp of discovering the cure, but are you close enough? The clock is ticking, and it's up to you to save humanity before it's too late. Will the cure be successful, will the walking dead triumph, or will the government swoop in and take drastic measures?
$27.95 per adult
$21.95
per child ($12 & under)
A Most Enchanting Experience
Escape the clutches of a dark and gloomy dungeon hidden deep beneath The Wizard's Tower. You must uncover the mysteries of this fairytale world before falling under its spell forever. Surrounded by damp stone walls and flickering torchlight, will you break free from the magic that holds you captive, or will you be stuck in this nightmare for eternity?
Secret of the S.S. Allami
$27.95 per adult
$21.95
per child ($12 & under)
A Mysterious Case to Crack
Investigate and solve a mysterious theft aboard the enigmatic passenger vessel: The S.S. Allami. Along with a group of fellow private investigators, you have an hour to solve the crime before the ship leaves the port. Can you do it? Who placed the mysterious phone call? Is the crew telling the truth, or are their words laced with even more secrets?
$31.95 per adult
Ages 18+ Only
Face the Horror that Awaits Inside
A missing pair. A mysterious photograph. These are the only clues in your possession as you explore the vacant rooms of an abandoned house. There is history in these walls. A dark secret to be discovered if you wish to uncover the fate of the missing. But time is running out. Something in the house is beginning to stir…

Bachelor/Bachelorette
Parties





Bachelor / Bachelorette
Parties



"This was my first escape room and I loved it. We had 4 kids and two adults and even though we didn't beat it we solved a lot of puzzles and had a good time. Staff were very friendly and helpful with some hints along the way."
"We went to Arcadia Adventures as a company for team building and we had a wonderful time. The Arcadia team was prompt and professional in responding to inquiries leading to the event. Once at the venue,
they made sure our staff felt welcome and comfortable especially since many people were first-timers. We all enjoyed the rooms and it was a lot of fun. Would definitely go back again to try out another room."
Read More
"Really friendly staff. We did the ye old horrible dungeon and managed to complete it without any hints. The puzzles were clever and utilized many different types of knowledge, but nothing overly complicated. Definitely super fun!"
"Thank you to the staff at Arcadia adventures. Our family of four had a great time stealing the golden alpaca. What a great start by allowing us to decorate our name plate. Our 7 year old found some hidden clues we would have missed and
our 11 year old cracked a couple lock codes that left the parent's scratching their heads. The staff were exceptionally friendly and helpful. We will be back to conquer Ye Olde Horrible Dungeon!"
Read More
Those Who Play Together,
Stay Together
Escape rooms involve solving puzzles, quick-thinking, teamwork and collaboration, making them ideal for team-building events, corporate retreats, and birthday parties. At Arcadia Adventures, we accommodate groups of up to 40 people with the opportunity to split into teams and play multiple rooms. Ask us about our group bookings today!
About Arcadia Adventures Escape Room Calgary
Arcadia Adventures Escape Room offers a one-of-a-kind unique gaming experience for would-be adventurers in Calgary. Our puzzle rooms will transport you to real-life scenarios, making you feel ensconced in a cinematic world. Everything is intricately designed, from set dressings to music, all to create an immersive experience while you play. 
Each of our escape games are built in-house and designed with their own interactive puzzles, riddles, clues, and codes that challenge the mind and encourage team cooperation. Our design crew starts with a blank canvas, creating unique escape room themes and puzzles to guarantee an authentic experience for each adventure. Most importantly, our awe-inspiring escape rooms are fun and enjoyable for everyone. 
Do you have what it takes? Are you up to the challenge? Whether your team is victorious or not, we pride ourselves on combining mysterious storylines, code-cracking puzzles, and quality one-of-a-kind props to make your experience at Arcadia Adventure Escape Rooms not only memorable but unforgettable.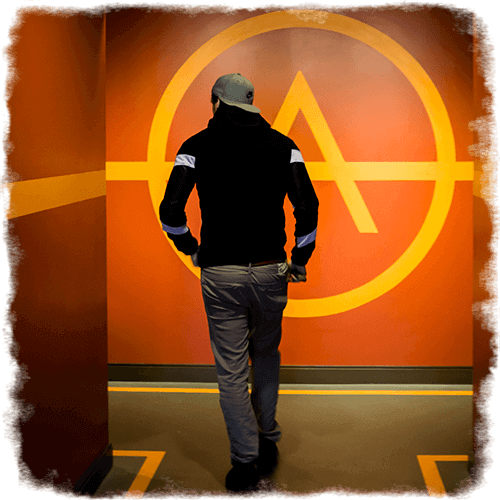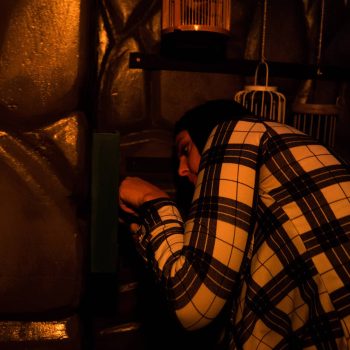 At Arcadia Adventures, we're committed to creating quality gameplay experiences for each and every player. We want you to have fun whether you escape or not.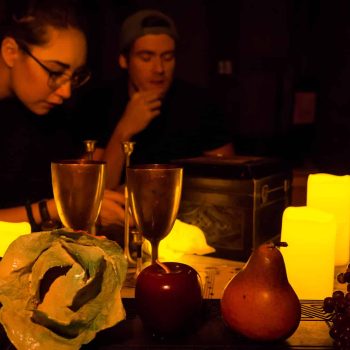 Each of our rooms features high-quality props and objects to improve the overall experience. We build the majority of our props in-house, so you won't find them anywhere else.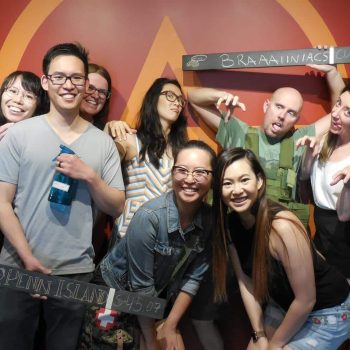 As owners, operators, and room-designers, we care deeply about providing a unique and fun experience. Every one of our rooms is custom designed and created by us.
Finding the Perfect Gift Does
Not Have to Be Adventure
Searching for the perfect gift for a friend or family member? Whether they're an escape room aficionado or completely new to the concept, a gift card to Arcadia Adventures is sure to please. If you're lucky, they might even bring you along for the ride! Arcadia gift certificates are available for purchase online.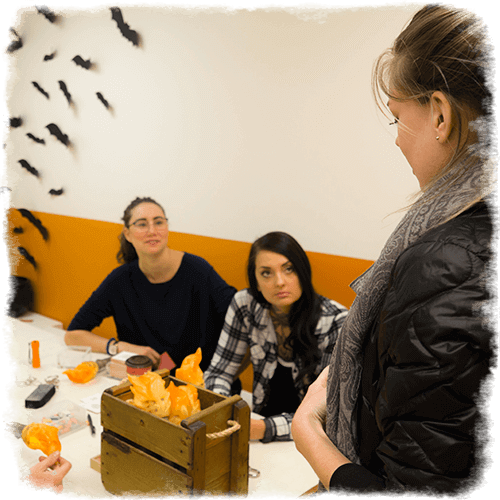 Book Your Escape Room Adventure Today!
Arcadia Adventures is home to the best escape room in Calgary. We've combined the thrill of solving puzzles in a real-life environment with the adrenaline-boosting challenge of beating the clock with seconds left to go. Can you do it? Will your group succeed or fail together?
Escape games provide unique experiences and exercises in teamwork that can effectively strengthen relationships and build trust. We welcome all groups to Arcadia Adventures, including families, co-workers, friends, birthday parties, and more.
Adventure is calling. If you're looking for some more fun and excitement in your life, answer the call and book your next encounter at our Calgary escape room today!
Escape rooms can be exciting and intense, but most of all, they're meant to be fun! Most escape rooms at Arcadia Adventures combine the use of different kinds of puzzles and riddles — a successful escape will require a mix of strategy, quick-thinking, and teamwork. Whether you're going with friends or co-workers, the best way to prepare yourself is to get ready for a night of fun!